Last year, it seemed like a great idea. Encouraging educators to bring their own laundry baskets and fill them up for $5. We learned that cheap creative supplies are a very compelling offer for motivated educators, and our facebook post about it spread like wildfire. After we had a few stress dreams, we galvanized volunteers, made signs to direct folks, opened up a side entrance, and met the earlybirds 30 minutes before the doors opened. And we still felt like ride operators at Cedar Point. 'Party of two? Two people just left out the front door, I can let 2 more in' I found myself saying from the lobby of our side door while a board member would signal to me at the exit. Whoops, laundry baskets are big in our small shop!
It was that popular, and educators were that awesome, that they never made it feel like it might be annoying standing in a line with their baskets and making friends with strangers. It wasn't annoying for us either, to be honest. It was invigorating. We saw 112 educators in 6 hours last August, not to count children and spouses (the ones that dutifully tagged along, the others that bailed to wait in the car :)
That we can be generous AND fill a need at the same time?! It warms our hearts to bursting! This year, we expanded our educator promotion and reduced the intensity of it. Phewww. And yay!
ALL AUGUST LONG, educators can come, shop with us, and fill their byob tote bag from all kinds of treasures in our basement after they spend $5 in our shop. It's a good deal, we promise, because the basement is loaded with good stuff and is more organized than ever.
Below are the details. We're open Thursdays & Fridays 2-6 and Saturdays 10-4 and this educator promo goes all the way to the end of the month. After it's over, we'll continue these hours but the filler-up byob promo will end.
Two more things to note: Yes, educators, you should come back more than once! We get new donations every day we're open, so what we have is always changing. And, yes, we were intentional in that 'educator' language. This includes home schoolers, troop leaders, daycare directors, and teachers. You educate, we applaud you. And supply you, we hope.
Onward!
Love,
Nicole & team
The deets are below, from the lovely Cass:
It's the annual Upcycle Parts Shop Educator Appreciation Sale!
Whether you work in a school, day care, are a troop leader, are a grown-up teaching homeschoolers, or a student teaching grown-ups, we want to honor those putting forth long hours into shaping, strengthening, and expanding the minds of our city's people.
This is how it's going down, educators:
Step 1: Bring your reuseable shopping tote from home. (please no IKEA bags or laundry baskets- let's be courteous of others needing material support.)
Step 1.5: Consider bringing a donation of materials that no longer serve you so that another educator can have a chance to bring them home! (visit our website for donation guidelines + policies)
Step 2: Visit Upcycle Parts Shop on a Thursday/Friday 2-6pm or Saturday 10am-4pm. There is street parking available + a large parking lot behind the shop as part of the Slovenian National Home. Both are free!
Step 3: At the register, sign in as an educator with a valid name, email, and your program/organization.
Step 4: Spend at least $5 in the shop on materials (or donate $5). THEN, head DOWNSTAIRS to our fill-a-bag section. Fill up your tote with anything you can fit! Participants are limited to filling 1 bag downstairs per day.
Step 5: Come back through August to do it again! Tell your friends to consider donating their unneeded creative materials to help keep the basement full of fun stuff all month long.
What you'll find at our shop:
We are a small space (900 sq ft) stocked full of paper, art + craft supplies, fabric + sewing supplies, office supplies, plastic and colorful bits, fine art supplies, hardware, binders, wood pieces, maps, wallpaper, magazines, media, and more!
Who we are:
Upcycle Parts Shop is a non-profit dedicated to provoking creativity and promoting community through reuse. In our retail storefront we sell low-cost craft supplies generously donated to us by individuals and organizations in our community. With these materials we also lead creative and educational programming/workshops both in-house and throughout Cleveland + its surrounding suburbs. Since opening in 2014, we have diverted over 26 tons of usable material from the landfill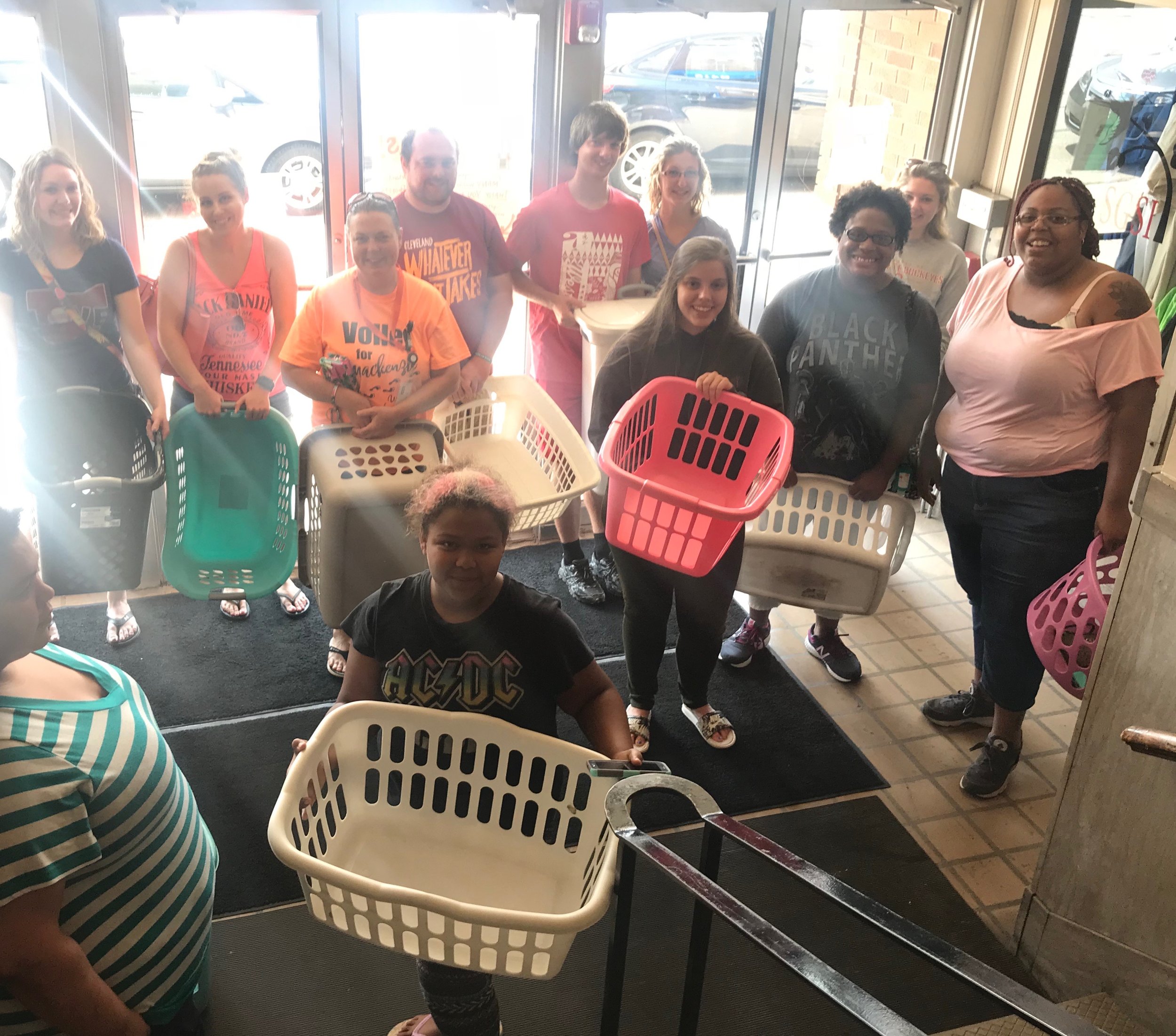 Thank you for teaching us, educators!